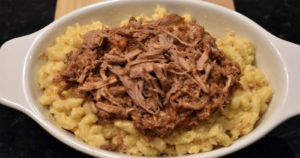 Making good food doesn't have to be difficult. All you need is some patience, planning, and preparation. Let's take the dish above for example, a four cheese smoked mac n cheese, covered in pulled pork that has BBQ sauce added to it. It actually took 9 hours for this dish due to the cook time of the pork butt on the smoker. The mac n cheese smoked for an hour and a half on the smoker. Most people may read that recipe and say, NO WAY am I spending that kind of time to make this. They may not have the proper equipment i.e. a smoker, or have the desire to spend the kind of time it takes to pull off the recipe. Does that mean they shouldn't try the recipe? Because trust me when I say, this is a delicious plate of food!!
I think a lot of times a home chef will try something at a restaurant, or see a celebrity chef on TV and think there is no way I can duplicate this. However, I think there are always some short cuts, or workarounds that will allow someone to pull off what appears to be a complicated recipe. I'm sure just like myself, you have been sitting at home watching a food program, and the first thing the chef has to do is make something in order to make the final product. All the time your thinking, I could have just bought that chicken stock at the store instead of making it. I agree, and try to take as few steps as possible when preparing my recipes. I'm not going to shred cabbage, and carrots when I can buy a bag of pre-made cole slaw, I have better things to do with my time. The same goes for this recipe.
For someone with either little BBQ smoking experience, or lack of equipment there has to be an alternative that will still taste good. For the butt I would suggest a slow cooker, or even your oven. You can still prep your pork butt the same way, by injecting your favorite liquids, apple cider vinegar, apple juice, etc. Then apply your rub to the meat, and into the crock pot/oven you go. But what about that smoke flavor I love?? No worries, simply add some liquid smoke for that nice smokey flavor. I would suggest measuring the internal temp of the meat after 3-4 hours. When it measures 165 F you should take it out, wrap in aluminum foil and add a marinade.
My marinade is very simple, I use a half a bottle of either Stubb's pork marinade or Pirates Gold pork marinade, a quarter cup of apple juice, and 1 tbsp of the rub that I am using. Heat that up on the stove and pour it over the pork butt, making sure to capture it with the aluminum foil, Then wrap the butt up. At this point you would have to use your oven to complete the cooking process.
When the butt reaches an internal temp of 195 – 200 F it is ready. Take the butt out vent it for about 10 minutes so that the cooking process stops. I take the butt out of the foil at this point and pour the juices into a container for later. I then put the butt back in the foil, and take an old towel and wrap around the foil. Then place the butt in a cooler to rest for 30-45 minutes. When ready remove the butt, and begin to shred it. I use bear claws to accomplish this , but you can also use forks to shred the pork. I then will pour some of the saved juices over the meat to add flavor and to make it really moist.
As far as the mac n cheese, it can be as simple as an instant box, up to a 5-cheese recipe. In the above picture, I used extra sharp white cheddar, sharp yellow cheddar, fontina, and gruyere. There are plenty of recipes online ranging in difficulty. The point is make what you're comfortable with. Again add some liquid smoke if you want that smokey flavor. I smoked mine at 275 F for one and half hours.
At the end of the day, with a little prep, planning, and patience you can pull off the most difficult or seemingly impossible recipes. Don't let a little self-doubt keep you from making great food.