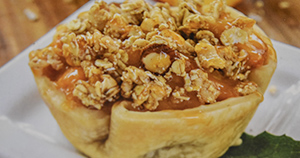 Peach cobbler is a staple in the south, cooking the peaches on your grill brings out the flavor of the peach and adds a sweet caramelization.
First, you will want to set up your grill at 350 degrees.
You will need a package of pie dough for the recipe. Unroll the package of dough, using a round cookie cutter, slightly larger than the muffin tin, cut out circles. Press the cutout circles into a non-stick muffin pan. Place the pan on top of your grill and cook until the dough is a golden brown. Let the dough cool and remove from muffin pan.
For the filling, cut six to eight peach in half. Brush the cut side of the peaches with olive oil, and place cut side down on the grill for about five minutes. Cut the peaches into small chunks.
In a half pan, combine peach chunks, brown sugar, cinnamon, nutmeg, lemon juice, butter and cornstarch. Place pan on the grill for 15 minutes, or until the filling has a thick consistency.
Fill each dough cup with the peach filling.
For extra garnish sprinkle the tops with granola and caramel sauce. Add a small scoop of vanilla bean ice cream on the side.